Player Stock Ticker
2018 Fantasy Football Big Board, Rankings and Market Report (Vol. II, Post-Coaching Carousel Update)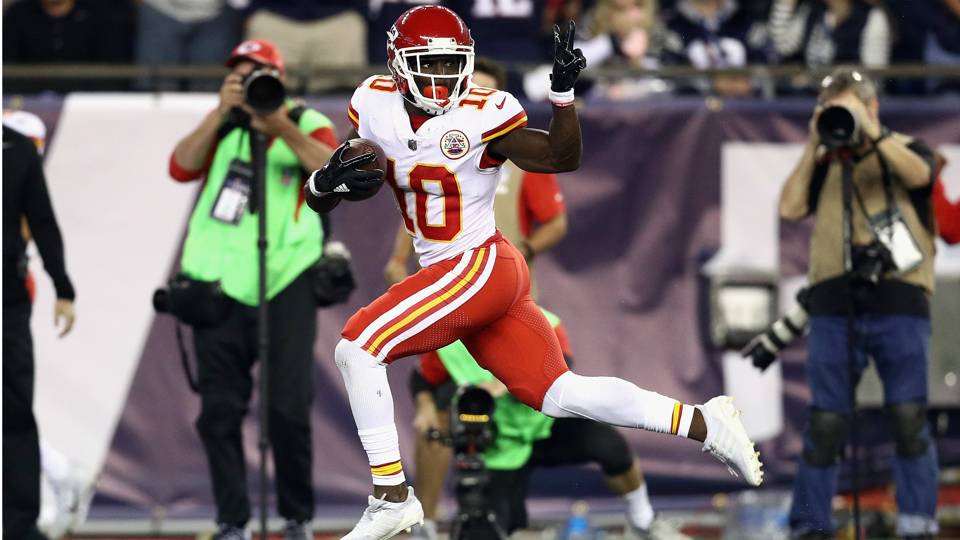 The final whistle of the 2017-18 NFL season has officially (and devastatingly) been blown. Time to grab your blankey, curl into a whimpering fetal, and hibernate for the next 28 Sundays, right?
Wrong. Like, Matthew Berry wrong.
You see, we're not even three days removed from the Eagles (heart wrenching) Super Bowl 52 win, and already 2018 Fantasy Football values have been swinging wildly.
The NFL Coaching Carousel has been spinning out of control. Blockbuster trades (re: Alex Smith) are already going down. Jerry Rice is contemplating a comeback. The world is indeed flat.
Needless to say, my "Way Too Early (aka Not Soon Enough)" Big Board has already experienced insane movement. While the masses of sheep will wait until the summer, true wolves (re: psychos) are already digging deep into each move and shake.
Beyond just the cathartic release of scratching that fantasy addiction, this early preparation has innumerable benefits.
First, being well-versed in all the moves and shakes as they happen ensures you don't miss a single development, as oftentimes sneaky winter nuggets are the championship notes no one else knows. In this light, you'll have a definite and deep head start on your competition by the time July rolls around.
True, this Big Board will look vastly different as early as next March, once Free Agency hits. This is, after all, why the Roto Street Journal is framed around a Stock Market Philosophy, as the offseason, and player values, truly never sleep. An awareness of the rises and falls over the full course of these dark, football-less months is a major edge.
Thus, we present all the latest Big Board and Rankings action, a summary of the largest risers and fallers, and the questions we're most looking forward to during our next major offseason stage: free agency.
Please, send me any and all feedback. Who am I insanely high on? What player if painfully low? Who's value is bound to swing the most? Hit up the comments, or find me on Twitter and Snapchat and sound off now!
For audio-based listeners, subscribe and download Episode 3 of the FFBDPod where The Truth and The Wolf breakdown the Big Board!
2018 Fantasy Football Big Board & Rankings (Vol. II)
Reminder – these are 2018 Rankings (1/2 PPR) 
Market Report
Top Risers Summary
Patrick Mahomes (QB, KC) & Tyreek Hill (WR, KC): 
We already broke down the official Alex Smith trade in more depth here, while I also planted my flags in these two Chiefs as the first two members of my "2018 Already All-In Team." As a quick recap: Hill shot up 5 more spots in light of the Alex Smith trade. Yes, Smith created a safer floor, but Mahomes' deadly combination of a cannon arm and immense escapability unlocks even more upside for Hill. The explosive speedster already averaged the most yards of separation last year, and now will have more time to shake free and an even stronger arm to rope the rock to him.  Meanwhile, Mahomes could not intrigue me any more. If the lesser arm talent of Alex Smith can produce the No.2 scoring fantasy season in this set up (elite Surrounding Talent + highly creative playcalling), then Mahomes has the ceiling for equal, and even superior, results. They wouldn't have traded away a Pro-Bowl signal caller without the upmost confidence in Mahomes, who makes throws few NFL QBs are capable of. A monster season is coming. Check out Chiefs insider Chris Clark's take on Mahomes here.
Bears RBs Jordan Howard & Tarik Cohen:
Both Howard and Cohen shoot up my rankings in light of the Matt Nagy and Mark Helfrich hires. Both coaches are creative, and especially innovative in their run game concepts, particularly Helfrich with his Oregon / zone read roots. The new creative offense should not only create much more gaping initial lanes, but especially the cutbacks, and Howard's major strength is his vision at both the first and second level. Plus, more scoring chances in an overall improved surrounding offense increases his appeal even further. I also love Cohen, and do see this as a committee, but Howard will be seeing plenty of valuable touches.
Meanwhile, Cohen flies up the rankings in light of the Matt Nagy and Mark Helfrich hires. Nagy hails from the Andy Reid offensive tree, which specializes in generating reception after reception for pass catching backs. Meanwhile, Helfrich and his Oregon roots similarly thrived on generating YAC opportunities for their RBs. Oregon guru Charles Fischer joined our FFBD Podcast, emphasizing how Helfrich will get his playmakers in space that allows them to make one man miss for huge, explosive plays. No one thrives more than Cohen with these types of opportunities, and you can rest assured he won't be criminally underutilized two years in a row now.
All Giants Skill Talent (OBJ, Sterling Shepard, and Evan Engram)
We broke down all Pat Shurmur brings to the table in great detail in our "Bellcow Breeder" article. As a quick summary, and highlight from this article:
"Of course, the most relevant name is Odell Beckham, who could be in line for his most dominant season yet — no light statement considering his record-setting first three seasons. Shurmur is known as a talent maximizer who sets up his players to do what they do best, and Beckham can do it all at the highest levels. Expect his vertical tree to expand, plus plenty of short game touches manufactured.

Not to be outdone, the rising Evan Engram should take a leap in his sophomore season. In addition to another year of seasoning, Engram will benefit from Shurmur's willingness to pile on tight end targets, especially in the red zone. Expect a leap into the Travis Kelce range for a 2-3 round discount.

Last but not least is Sterling Shepard. Shurmur's track record with slot WRs is golden, and Shepard has flashed game changing abilities in this role before. He should see the most volume and creative usage of his young career, and is a real threat for 1,000+ yards.

All-in-all, I'm clearly fired up for Shurmur to light off a fantastic offensive fireworks display in the Meadowlands."
Amari Cooper (WR, OAK):  Despite his horrendous 2017, Amari Cooper comes with enormous bounce back appeal. For one, Jon Gruden's produced a 1,000 yard WR in all 11 seasons coaching (more breakdown on Gruden and his tendencies here). In particular, he specializes with slot mavens like Tim Brown. Now, Cooper has been minimally used in the slot as a pro, but this is where he's dominated the most (saw a season-high 35% snaps out of the slot during his 11-210-2 TD masterpiece), and Gruden should recognize this. If reports emerge confirming Amari's increased slot usage these OTAs, he'll be soaring. The talent is still very real, and he might have just landed the best coach to maximize it.
Top Fallers Summary
David Johnson (ARI, RB):
Look, I recognize this is an elite talent. DJ only falls a spot or two, but it's crucial to note the losses of Bruce Arians and Carson Palmer in one fell swoop. Arians is a notorious 3-down horse rider, and while Mike McCoy should recognize the special talent he has here, his run games have historically blown. Plus, the Surrounding Talent downgrade cannot be discounted, as this offense seems bound for regression as a unit after losing their signal caller and quite possibly Larry Fitzgerald. Johnson could rise if a competent signal caller joins (hello, Kirk Cousins) and workhorse reports emerge, but I'm definitely not lumping DJ up with the Gurley, Bell, and Zeke tier like most other experts will do.
Dalvin Cook (RB, MIN): 
Similar to DJ, I recognize Cook has all the talent in the world, and will not hesitate to draft him at the right price. Hell, I'm currently 5 spots higher on him than the ECR, despite him falling 5 spots in my rankings.
Still, losing Pat Shurmur hurts, as he's infamous for breeding bellcows. Cook remains a special talent, and Jerick McKinnon could be removed from the backfield equation as an impending free agent. But Latavius Murray showed very well in a short yardage role, and this seems like an obvious vulture situation to lessen Cook's load while keeping Murray involved and happy. I wouldn't be surprised to see a monster total yardage and receiving season from Cook, but the lack of TDs could hurt him, and sends him falling a bit
Robby Anderson (WR, NYJ):
Yeah, being arrested on 9 charges while telling a police officer you plan to nut in his wife's eye isn't going to help anybody's 2018 value. The Jets have yet to comment, but you'd have to imagine Anderson sees a lengthy suspension for this one, perhaps up to the full year. Despite his monster breakout, Anderson's removed from the rankings until further notice.
Top Burning Questions for Next Time:
Free Agency will bring the next major moves and shakes, and we'll be doing a full-on preview of the major gaps, and review of all the action once it unfolds. Until then, here's a preview of the preview and the questions that'll fill it. We've divided them into "Value Holes" (perceived openings that drip with fantasy upside) and "Top Free Agents" to track.
Top 5 Value Holes:
1) NYG RB – Shurmur's love for Bellcows and this explosive all-around offense make the New York backfield a potential fantasy goldmine
2) Cleveland RB – New OC Todd Haley loves his three down horses, the line is beastly, and the Browns truly appear a QB away from a very competent offense.
3) Tampa Bay RB – After Doug Martin's horrendous 2017, this backfield appears wide open. Dirk Koetter has preferred riding a horse, and, despite a horrendous 2017 showing, this offense still has plenty of firepower for a massive rebound.
4) Denver QB: Throwing to Emmanuel Sanders and that vegan-ass bitch Demaryius Thomas certainly has its benefit. Kirk Cousins would look damn good in this set up.
5) Patriots RBs: Both Dion Lewis and Rex Burkhead are headed for free agency. While at least one return seems likely, you never know with the Patriots. Obviously, the scoring chances here cannot be overstated, and a clear cut No.1 RB would be a borderline second rounder.
Top 5 Free Agents: 
1) Kirk Cousins: He'll provide fantasy shockwaves across whatever offense he lands, making Cousins the No.1 free agent to track. Drew Brees would top this list if I actually thought he'd escape New Orleans, but that seems completely unlikely.
2) Jarvis Landry: There's a growing sentiment Landry will be hitting the market, and he will be a difference maker wherever he lands. If a slot-dominant team ike the Patriots, or West Coast "YAC" aficionado like Andy Reid and the Chiefs get their paws on Landry, he'll rocket up the rankings.
3) Allen Robinson: The Jaguars appear likely to franchise this monster, but Robinson would become a game changer should he hit the market. He's only 25, and still stands a towering 6'3″ with impressive leaping ability. Please let him loose and allow him to become Kyle Shanahan's next Julio Jones Target Hog "X Receiver" alongside Jimmy Garoppolo.
4) Carlos Hyde: There's no conceivable way Le'Veon Bell actually hits the market, making Hyde the most intriguing runner of 2018. He flashed well even in an ill-fitting zone scheme last year, and a landing spot with a power-heavy team that could frequent the red zone would send him soaring (Green Bay, anybody?)
5) Dion Lewis: He flashed his elite patience and surprising up-the-gut power down the stretch of 2018. A return to New England is probably his best bet for fantasy value, especially if Burkhead departs… but Lewis could still be a fantasy dynamo under the right coordinator.
Other Intriguing 2018 Free Agents: Case Keenum, Sammy Watkins, Jerick McKinnon, Isaiah Crowell, Rex Burkhead, Terrelle Pryor, Marquise Lee, Paul Richardson, Trey Burton
Release / Trade Storylines:
1) Will DeMarco Murray be cut, consequently opening Derrick Henry's cage door for a massive RB1 campaign? Murray is due for a $6.5 million cap hit, but would count for $0 if released.
2) Is Michael Crabtree set for the free agency pool, as many speculate? Amari Cooper's rebound may hinge on those vacant targets, and Crabtree's due for a $7.67 million cap hit, but would account for $0 if released.
3) Cameron Brate is rumored to be a popular Restricted Free Agent target, and his departure would send OJ Howard to the moon. Dirk Koetter loves targeting TEs, and if Howard's immense talent meets that insane volume, a top-five campaign is very real.
Revisiting the Last Set of Burning Questions:
Since the next major Big Board update will center around Coaching Changes, the questions really focus on the most intriguing job openings… and Jon Gruden:
1) What are Jon Gruden's tendencies as a play caller and head coach? How will his "no-nonsense" style mesh with Derek Carr and Amari Cooper?  
Check that all out here. The short: Gruden's ability to churn out 1,000+ yard WRs is huge news for Cooper, and a pass-catching back will be a monster in 2018 out of Oakland.
2) Who will land in Detroit, and will Jim Bob Cooter (who Matthew Stafford, Marvin Jones, and Golden Tate have flourished under) be retained?
Defensive-minded Matt Patricia is in as head coach, and will be retaining Jim Bob Cooter as his OC. This continuity is fantastic for Stafford, Jones, and Tate… while the running game looks to suffer yet again.
3) Who will be hired in Indianapolis, and will Andrew Luck be healthy enough for it to matter?
After being left at the altar by Josh McDaniels, this one remains up in the air. So does Luck's health.
4) What about in New York, where the receiving talent (Odell Beckham, Sterling Shepard, Evan Engram…maybe Brandon Marshall?) is overflowing? Will the play caller be able to capitalize?
Read Pat Shurmur: Bellcow Breeder, Slot Dominator, Talent Maximizer. Then put away that fantasy wood drawn for all your favorite Giants talents.
5) The Cardinals are in complete flux after losing Bruce Arians and Carson Palmer (and likely Larry Fitzgerald). Still, this offense drips with upside, particularly behind the horse named David Johnson. Will a play caller who can maximize his three-down skillset be brought in (hello, Pat Shurmur)?
A full breakdown is coming, but Mike McCoy has a mixed track record — coordinating some of the most explosive attacks in NFL history… when he had Peyton Manning, while fizzling out in other stops. If a quarterback is not added here, this offense could be in trouble for 2018. His run games have particularly blown, and while David Johnson has enough talent to supercede any scheme, this can't be viewed as a positive.
6) Who will land in Chicago, and is it someone smart enough to recognize the explosiveness of Tarik Cohen? Or will his special talent go underutilized yet again?
Hello, Matt Nagy and Mark Helfrich. I couldn't be more excited for these two, who have fingerprints on some of the most innovative run games in both the professional and collegiate game. Cohen will be fed passing game looks, and this entire offense is on the rise.
Stay Tuned for all our 2018 Offseason Guides, including our Coaching Carousel Recap, Free Agency Preview, and NFL Draft Report. As always, send in any feedback and questions. Let me know who I am dead right and dead wrong about, and who you're most excited to follow this offseason. Hit up the comments, or find me on Twitter and Snapchat and sound off now!