Player Stock Ticker
NFL Picks and Predictions for Week 15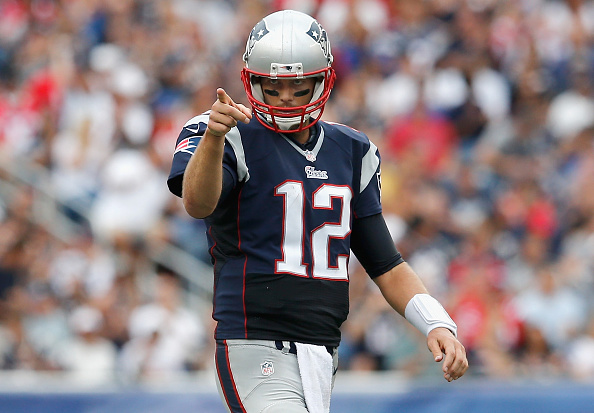 Back by popular demand, it's my NFL picks for Week 15. My beginner's luck wore off last week and I ended up with a 2-3-1 showing on the weekend after the Patriots push, putting me at 8-3-1 in my young Roto Street Journal career. Not perfect, but definitely better than Jeff Fisher.
I was pretty frustrated at Belichick not sending Gostkowski out there at the end of Monday's game to go up 10 and cover, but definitely not as frustrated as this guy.
Now I've been known to throw out some ridiculous parlays in my day, and a handful have worked out, but none like that. That dude would laugh at my $109 5-team NHL parlay. Actually, come to think of it, he's probably not doing a lot of laughing anytime soon. #InBillWeTrust.
Anyway, we've got another great weekend of games ahead of us, so let's dive right in.
Obligatory Pats Spread
New England Patriots (-6) at Denver Broncos
After the aforementioned 7 point win against Baltimore in Week 14, a game in which the Pats put up almost 500 yards of total offense against the 4th best defense in the NFL, they'll now travel to Denver to take on the 8-5 Broncos, who are coming off a 13-10 loss at the hands of the Tennessee Titans. In Trevor Siemian's return after missing 1 game with an ankle injury, it took Denver almost 3 and a half quarters to even get on the scoreboard. The Titans were nice enough to only put up 13 points in the contest, keeping it a lot closer than it should've been, but don't expect Tom Brady and the Patriots to be as polite. This is a top-5 offense averaging close to 27 points per game, and the only way Denver can stay in this game is by dominating defensively; which, luckily for them, is their specialty. NFL sack leader Von Miller and the rest of Denver's sturdy defensive unit will have to get constant pressure on Brady to keep this contest close, a task that's looking increasingly more difficult as New England's young offensive line continues to come into it's own late in this season. The Pats are currently 3-point favorites, mainly because the game's in Denver, but it doesn't scare me much.
Pats by a touchdown. 
Los Angeles Rams at Seattle Seahawks (-15.5)
It's rare you see an NFL line that's this lopsided, but this is a real special situation going on in Los Angeles right now. Jeff Fisher, just a few weeks after signing a 2-year extension, was fired after the team's 4-7 start, leaving him with a 178-171-1 lifetime coaching record. Fun fact: Bill Belichick could go 0-16 for six straight seasons and have a better lifetime winning percentage than Jeff Fisher. Anyway, although Seattle hasn't been the epitome of dominance that they once were, the defense has been hit with the injury bug, and they're coming off a 38-10 beatdown at the hands of the Green Bay Packers, the Seahawks deserve their heavy favorite status in this one. They've won 4 out of their last 6, and anyone should be afraid of a defense that employs Richard Sherman, Bobby Wagner, and KJ Wright, especially an unseasoned rookie like Jared Goff. They return to CenturyLink Field, arguably the best home-field advantage in football, and they'll be looking to emphatically right the ship after last week's beatdown.
It may be the eggnog talking, but the line doesn't scare me: Seahawks cover. 
Pittsburgh Steelers (-3) at Cincinnati Bengals
As far as divisional rivalries go, the Steelers/Bengals one is up there at the top. The games are always close (3 out of the last 4 have been decided by 8 points or less), they're always chippy, and the personalities always come out to play. One week after telling us exactly what he thinks about Terrelle Pryor, Pacman Jones will team up with the Draymond Green of the NFL, Vontaze Burfict, and Cincy's defensive unit that is tasked with stopping Pittsburgh's Killer B's. Ben Roethlisburger is 12th in the league in QBR, ahead of guys named Smith, Wilson, and Carr, and Le'Veon Bell has been arguably the best back in the league since his return from suspension in Week 4. Add in Antonio Brown and a top 10 defense and it's hard to feel good about 5-7-1 Cincinnati. It does make me nervous that these games are typically close, but Pittsburgh has also won 11 of the last 14 matchups dating back to 2010, and although AJ Green practiced this week he still could be a non-factor returning from that knee injury.
The Steelers cover here. 
New Orleans Saints (+2.5) at Arizona Cardinals
If you told me in August that come December I'd be taking the Saints to cover a 2 and a half point spread against the Cardinals on the road, I'd have assumed Carson Palmer and David Johnson were resting for the playoffs. Instead, Arizona is 5-7-1 and holding out hope for a possible Wild Card spot in the NFC. The Saints haven't been any better, sitting at 5-8 entering this week, but new weapons like Michael Thomas are emerging in the offense and Drew Brees will definitely be looking to bounce back after consecutive 3-INT, 0 TD weeks. Lines will change sometimes as the game gets closer, and if this one goes above +3 for the Saints I may change my mind (I guess you'll have to follow me on Twitter to find out), but as of now it looks good.
Expect a Saints cover.
Tampa Bay Buccaneers at Dallas Cowboys (-7)
Lot going on here. The Tampa Bay Bucs have quietly won 5 in a row, and Jameis Winston has now thrown as many touchdown passes as Eli Manning and Kirk Cousins. Dallas, meanwhile, is coming off a rough game last week in New York, an ugly 10-7 loss in which Dak Prescott threw for just 165 yards and the Cowboys turned the ball over 3 times, including a late fumble by Dez Bryant that sealed the game for the G Men. This game was originally scheduled for late afternoon but was flexed to primetime because of the matchup, a matchup I wouldn't be shocked to see again when the NFC Divisional Playoffs roll around. Regardless of where the two teams seem to be trending, you've gotta think Dak and the Cowboys get it together at home this week. The 11 game win streak is over, pressure's off, and now the goal is to play solid football and lock down that division. Tampa Bay has looked strong as of late, but if Dallas plays their game they should have their way with the Bucs' 21st ranked run defense.
Dallas covers. 
Carolina Panthers at Washington Redskins (-6)
And finally, on Monday night the reigning MVP Cam Newton and the Panthers will travel to DC to take on the Redskins. Both teams enter Week 15 coming off unimpressive wins over mediocre teams, after Washington took down the Eagles 27-22 and Carolina knocked off the Chargers by a score of 28-16. On the Skins side, Kirk Cousins has had a strong second half thus far, having thrown for 11 TDs and just 2 INTs since the team's week 9 bye, and Desean Jackson has a recieving TD in 3 of the last 4 games. Carolina, meanwhile, has lost 3 of 5 and is giving up almost 26 points a game, good for 26th in the NFL. Newton has struggled to return to MVP form, and he's now 21st in the NFL with a QBR just under 60. Factor in that Washington has the 2nd most yards in the NFL, and this one's pretty easy.
Skins by at least a TD.
And there we have it. Best of luck to all, and hopefully these'll help you fund your Christmas/New Year's escapades.
Dad Joke of the Week
Why did the scarecrow win an award?
He was outstanding in his field.