Player Stock Ticker
2017 Fantasy Football Running Back Rankings, Stock Scores and Auction Values: Preseason Edition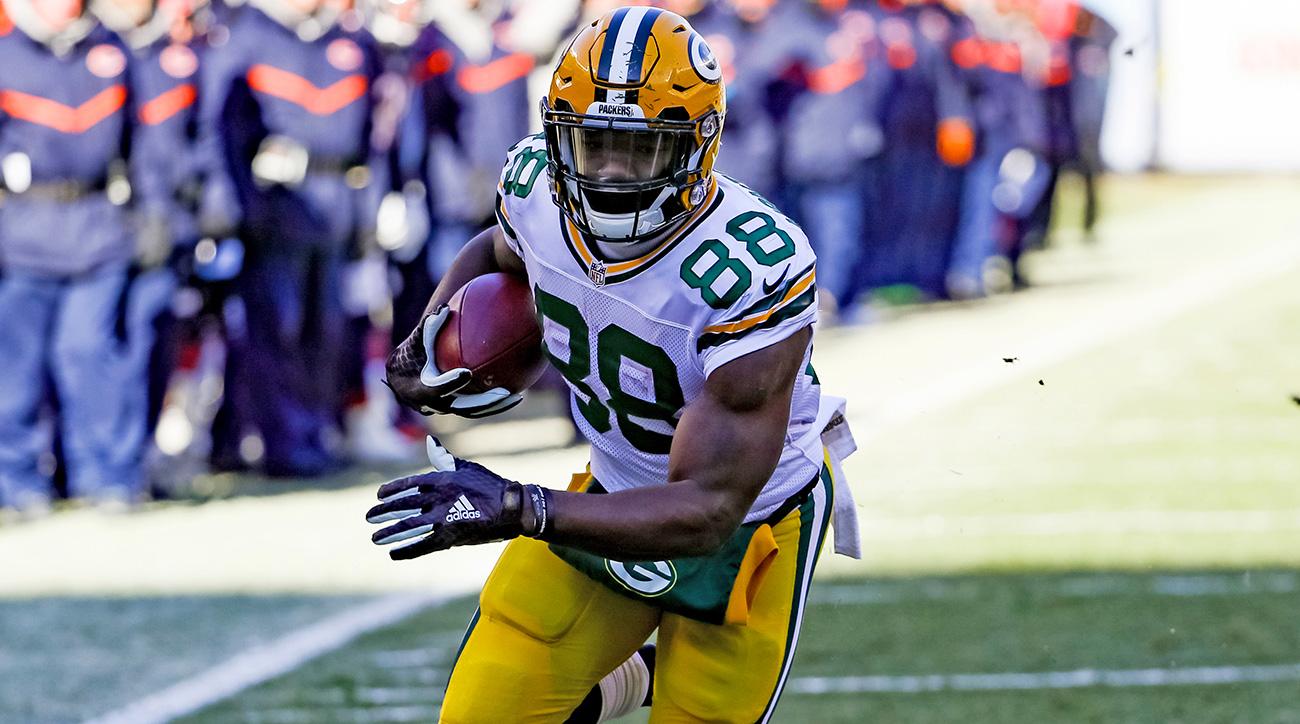 Training Camp is full in swing, preseason action is on the horizon, and real football is a mere month away. Though 85 and sunny outside, I'm spending my remaining summer vacation days as a melting puddle on my couch, churning out DraftWizards by the second, tugging to all the "best-shape-of-his-life" puff pieces, and watching every lineman sled drill of NFL's Inside Training Camp Live. #TheGoodLife
Needless to say, fantasy preparation is at it's absolute peak. Indeed, true Fantasy Wolves have been chugging away since the final whistle of the Super Bowl. Still, there's plenty of time for you "August Sheep" to get caught up.
Start by checking out our FREE Fantasy Football Market report (monster update coming in 3 weeks). Be sure to follow us on Twitter, Instagram and Facebook. And, of course, pepper your favorite expert's newly revived Twitter page with all your fantasy dilemmas and shred my soul into a 10 lb bag of sharp cheddar with all disagreements.
Of all the positions, running back has predictably seen the greatest swings between now and OTAs. Major injuries, like Kenneth Dixon and Latavius Murray, have brought some role clarity to their respective counterparts. Training Camp battles have been ignited, with some starters already ceding first team touches to intriguing rookies. And, of course, we've gotten our first peaks at old faces in new places.
Thus, we have updated our Fantasy Football Running Back Rankings and Stock Scores. Note – if you don't know what "Stock Score" means, pause and immediately go here. Understanding our Fantasy Stock Formula is absolutely crucial, and is our tool for providing the most in-depth and accurate rankings in the business.
These rankings will be continually updated with every swing and shake of preseason action and training camp news. Be sure to check in daily to see where your favorite players are sliding in:
2017 Fantasy Football Running Back Rankings: Preseason Edition 1
Wolf's Rank (ECR / ADP)
Auction $$
Name (Team)
Talent
Opportunity / Usage
Coaching Scheme
Surrounding Talent
Risk
Fantasy Stock Score / Grade
Tier 1 - Elite, Three Down Workhorses (A+ range, $65 - $75)
1 (1 / 1 )
$75
David Johnson (ARI)
10
10
10
9.5
9.5
49, A+
Summary: Immense three-down talent + voluminous workoads + creative play calling + strong line and surrounding skill talent = Fantasy Cheat Code. Gets the #1 nod thanks to lesser injury and off-field risk than Le'Veon, despite same value-driving factors. His 2016 output of 2,000 total yards and 20 TDs seems easily repeatable, if not surpassable.
2 (2 / 2)
$73
Le'Veon Bell (PIT)
10
10
10
10
8
48, A
Summary: See above, add in a bit more risk given Le'Veon's proneness to missing time, both on (injury) and off (smoking) the field -- he's only made it through all 16 games once in four years. Still, Le'Veon's weekly ceiling is higher than even Johnson, as evidenced by his 1,884 total yards, 9 total TDs, and 75 catches in ONLY 12 GAMES! That's a full season's worth of RB1 numbers, and amounts to 23 FPs per week (1/2 PPR).
3 (3 / 3)
$65
Ezekiel Elliott (DAL)
10
9
10
9.5
9.5
48, A
Summary: Lance Dunbar's departure could allow Zeke to flash his exceptional three-down skill set, and the increased "Opportunity" makes Zeke a sneaky bet to lead all 2017 RBs. At minimum, he's in the conversation for #2, especially for floor-seekers and/or those in standard leagues.
Tier 2 -RB1s (A range, $50-$60)
4 (7 / 9)

$57
Jay Ajayi (MIA)
10
10
10
8.5
8
46.5, A
Stock Up: Already high at my RB6, Ajayi shoots up to RB4 as the projections continue rolling in that he'll approach 2,000 total yards and 12 TDs. Out of all the backs after the Big Three, Ajayi feels like the most realistic to approach true "David Johnson" and "Le'Veon Bell" usage and cheat code fantasy status. I'm all in.

Summary: All this chatter of his receiving game improving "200 percent" + 350 carries has me all hot and bothered, and Ajayi's increasing "Usage" score cements his first round worth even further. We know the rushing ability is among the elite after Ajayi became only the fourth RB to rush for 200+ yards in three separate games. If the receiving game is truly on that next level, Ajayi will land among the fantasy elite. The only negatives here are the lack of a track record, and his knee issues that led him to fall in the draft (non issue thus far in his NFL career, but worth noting).
5 (4 / 4)
$56
LeSean McCoy (BUF)
9.5
9.5
9
10
8
46, A-
Shady is bound for a TD spike after Mike Gillislee departed, but scheme fit questions and injury risk keep his stock slightly below the elite, despite his massive 2016. On the positive front, new OC Rick Dennison was calling the offense during Arian Fosters dominant 2010-12 stretch, and is more than willing to use his backs in workhorse roles, especially in the passing game. It's just a matter of staying healthy for Shady, and my gut has me skeptical. If you want track record, however, and are feeling a healthy season, go Shady above either of the other two.
6 (5 / 5)

$55
Melvin Gordon (LAC)
8.5
10
10
9.5
8
46, A-
Summary: Melvin Gordon's "Usage" becomes a perfect 10 with no competition for backfield targets added despite the loss of Woodhead; adding more perimeter weapons and beefing up the line via the draft also improve his already high "Surrounding Talent" score, and, when all combined with new HC Anthony Lynn's brilliant run scheming, Gordon jumps ahead of Shady.
Tier 2.5 (A-, $45 - 50)
7 (9 / 7)
$49
DeMarco Murray (TEN)
9
8
10
10
8
45, A-
STOCK DOWN: Murray's stock decreases slightly with the OC promising more work for Derrick Henry (click the link for more detail). While Murray should remain highly valuable, a more committee-based attack hurts his appeal. Monitoring the exact workload distribution is now crucial here.

Summary: DeMarco rebounded majorly thanks to landing in fantasy heaven: a top-three line + a creative, run-heavy scheme in Exotic Smashmouth = fantasy gold. Plus, coach Mularkey has already talked about "getting our backs out quicker" in the receiving game, meaning Murray could improve upon his sixth-best 53 catches from last year. The only concern is Derrick Henry's massively looming presence, especially at the goal line.
8 (6 / 6)
$49
Devonta Freeman (ATL)
9.5
8.5
9
9
9
45, A-
Summary: Freeman's "Coaching Scheme" score has to take a slight hit with the departure of Kyle Shanahan and his brilliant zone blocking scheme; however, Steve Sarkisian has said he'll keep the outside zone game a staple, as well as the overall aggressiveness of this offense, which keeps Freeman firmly on the RB1 radar. Though his committee situation keeps Freeman fresher and less likely to get hurt, it does cap his ceiling a bit as compared to the names above. He's still a very safe bet for 1,400 total yards and 10+ TDs, making him a fantastic second round selection.
Tier 3 - High End RB2s w/ RB1 Upside(B range)
9 (12 / 14)
$35
Isaiah Crowell (CLE)
8
9
9.5
8
8.5
43, B
STOCK UP x 2: Crowell continues to climb, thanks to his coach's commitment to the run game and the increasing likelihood the athletic Deshone Kizer is the Day One starter (more details on the link)

Crowell continues climbing the ranks, as the additions of mauling Kevin Zietler at right guard and sturdy JC Tretter at center create one of the top-five lines in football; if only they had a quarterback or any semblance of exposion around him, and thus Surrounding Talent can't climb any higher than 7. With little competition added in the draft, Crowell's Usage also rises, and he should be an ideal RB2 target with real RB1 upside if this offense somehow functions.
10 (10 / 11)
$35
Todd Gurley (LAR)
9.5
9.5
9
7
7.5
42.5, B
Stock Up Update (Previously RB12): Gurley rises slightly as reports emerge that his receiving skills are being maximized by creative play caller Sean McVay. Gurley has been lining up all over the formation and is frequently the first target, and McVay has talked about "merging the running and passing games," which could put Gurley in the rare class of David Johnson and Le'Veon Bell as true three down horses. The positive momentum for a bounce back continues to mount.

Reports that Jared Goff is "far ahead" in mastering Sean McVay's creative scheme are nothing but positives, as so much of Gurley's value depends on having an actually viable option under center. The line additions certainly won't hurt either, and the team added a bevvy of skill talent in the draft, which has Gurley's "Surrounding Talent" score on the rise. Even if this offense becomes fringe-competent, Gurley should find oodles of more room to roam, and a bounceback is feeling more and more likely.
11 (8 / 8 )
$34
Jordan Howard (CHI)
9
9.5
8
7.5
8
42.5, B
Our "Stock Formula" reveals Jordan Howard to be among 2017's most overrated RBs. He profiles very similarly to 2016 Todd Gurley, where horrendous surrounding talent could anchor his value, despite high talent and usage. Still, I initially undersold his offensive line, which grades out as PFF's No.5 line for 2017. Talent and volume behind a strong line often breeds humongous fantasy numbers, and Howard, who trailed only Ezekiel Elliott in rushing despite starting four fewer games, is in this type of goldmine situation. I still worry a lack of offensive firepower will hurt, as will teams having tape to now study. But I have warmed up to Howard in recent months, especially with so much uncertainty surrounding this tier.
12 (11 / 10)
$31
Leonard Fournette (JAC)
9.5
7.5
8
8
8
42, B
8/8 Stock Down Update (Previously RB9): Though I loved Doug Marrone's serious comments that the ideal number of pass attempts is "0," I hate the reports on how this volume will be distributed. The early depth chart lists all three of Fournette, TJ Yeldon, and Chris Ivory as co-starters, and beat writers suggest this isn't just motivational ploy. Ivory is rumored to be the goal line vulture at the moment, which doesn't make sense given how enormous and powerful Fournette is, but this is the Jaguars we speak of. Should he lose these valuable touches at the stripe + receiving work to Yeldon, Fournette would be little more than a glorified between-the-20s back. I clearly still think talent will prevail with him remaining in my Top-12, but we might need to stomach a few annoying weeks.

Physicality has been the motto under new VP Tom Coughlin and HC Doug Marrone; what better way to establish this than feeding a complete bulldozer 20-25 times a game? Plus, Marrone is already praising Fournette's receiving abilities, leaving the door open for three-down horse usage. Fournette could rise into RB1 territory as high as #8 if he flashes well in camp and this offense shows signs of bouncing back. Despite the addition of Cam Robinson, who many considered this drafts top tackle, this line remains highly suspect, which keeps Fournette in the high-end RB2 range... for now. At minimum, the Talent and Usage are there.

13 (13 / 13)
$30
Lamar Miller (HOU)
8.5
8
9.5
8
7.5
41.5
Stock Down (Previously RB9): In our "Ultimate Rookie Running Back" preview (linked here), NFL Draft Insider's Jared Tokarz heavily cautioned that massive rookie D'Onta Foreman could be in line for vulture work, at minimum. Thus, Miller's usage takes a tough hit for now, as his limited scoring ceiling means a repeat of only 5 total TDs could be likely. He'll still see enough volume in the rushing and receiving game to yield consistent RB2 output, but a TD drought would make RB1 status very difficult to obtain. He'll fall or rise further as this workload situation gains clarity.

Summary: Miller's "Surrounding Talent" score takes a jump and sends him rising, as he will benefit greatly from Deshaun Watson's addition. First, Watson's mobility will open up the read-option game and keep weakside defenders honest, ultimately creating gaping cut back lanes that mesh with Miller's style. Additionally, the team projects to be in the red zone far more frequently, opening up more scoring chances for Miller. He's one of my favorite post-hype bounce back targets.
14 (15 / 12)
$30
Marshawn Lynch (OAK)
7.5
8
8.5
10
6
40, B-
Summary I reserve the right to send Lynch soaring into my top-10 if he looks rejuvenated and is projected for a heavy workload. WIth a top-three line and explosive surrounding skill talent, this "Surrounding Talent" situation couldn't be more ripe -- the Raiders rank top-eight in running back yards, running back touchdowns, and running back fantasy points over the last two seasons. It's just a matter of whether Lynch will get the work and if he's in the proper shape to maximize it. Early clips suggest he is, but let's see him put on the pads and get steamrolling in real practice before we send him soaring. The upside is undeniable.
15 (16 / 19)
$29
Ty Montgomery (GB)
8.5
7.5
8.5
9
6.5
40, B-
8/6 Stock Up Update (Previously RB22): After an offseason of full devotion to becoming a true RB, Ty Montgomery has reportedly distanced himself from the three drafted rookies and seized Green Bay's lead horse role. With Mike McCarthy's full backing, Montgomery now radiates humongous RB1 upside in a fantasy dreamboat situation, with his Usage, Scheme, and Risk scores all seeing positive boosts. He rises from the RB22 all the way up to RB15, with room to continue ascending. Jamaal Williams still lingers and has reportedly earned first-team work thanks to better pass protection, but Montgomery is still considered the heavy favorite to be Green Bay's workhorse.

Stock Up Update (Previously RB29): Montgomery rises after stats reveal he was the NFL's Most Elusive back thanks to a bevy of tackle breaks. His RBs coach was very pleased with this stats, and hinted that more work will be coming, which has Montgomery in a prime position to capitalize on the juicy surrounding situation. He remains in a "Must-Monitor" Training Camp situation though.

Summary: Though Ty Montgomery has been endorsed as the lead back, the drafting of THREE backs (late rounders withstanding) suggests otherwise. As explored earlier, Mike McCarthy has facilitated some massive RB1 seasons, but only when provided the right workhorse. After Montgomery topped double digit carries just once in 2016, this role will be unlikely, and the talented pass-catcher is looking more and more like a third down specialist. The upside is still enormous if Montgomery can grab a stranglehold on the gig, but he has three bodies to stave off now.
16 (18 / 15)
$29
Christian McCaffrey (CAR)
9
7.5
8
7.5
8
40, B-
Stock Down Update (7/23): With Panthers reporters suggesting Jonathan Stewart will see "the bulk of carries" despite McCaffrey's addition, we have to temper our expectations just a bit. While I still feel McCaffrey will prove too talented to take off the field, his scoring upside is a bit lower than I originally considered. Additionally, Gridiron Experts' Mitchell Renz brought some fire stats to our Fantasy Fullback Dive around how horrendous Cam Newton has been at throwing to RBs. This trend will undoubtedly improve with a talent like McCaffrey, but Newton's short-game accuracy concerns need to be accounted for as well.

As noted by CBS Senior Draft Analyst Dane Brugler on our Podcast, McCaffrey has the skillset to redefine what a "workhorse" back is. While he won't be shoved up the tackles for 20-25 carries, he should see 10-15 weekly totes in addition to 6-8 targets in the passing game each week, amounting to a steady, consistent workload for a highly talented player -- no, I'm not worried that no team has targeted RBs fewer over since Cam arrive, they've never had a receiving talent like this. Combined with some creative playcalling from Mike Shula and a strong supporting cast (if this line can stay healthy, that is), and McCaffrey is set to make a massive fantasy impact as a rookie. Love that he was praised by the GM for his "between the tackles vision," suggesting McCaffrey is in line for far more usage than just in the passing game. The only real question is his usage near the stripe, and how many TDs will be up for grabs.
17 (14 / 16)
$26
Carlos Hyde (SF)
9
8
10
6.5
6.5
40, B-
8/7 Stock Up Update (Previously RB18): Though this RB battle is far from over, Hyde's hold on the starting gig feels far firmer than it did a few months ago. He's reportedly been running like a man possessed and is performing far better in the zone-blocking scheme than OTAs. Of course, these reports are often fluctuating between the day and who you talk with, and Kyle Shanahan is never afraid to make a last minute switch. Thus, this situation still warrants caution, but Hyde could rifle up as high as RB12 should he really lock up this gig. The scheme is truly that beneficial.

Summary: Hyde drops down multiple tiers after reports suggest he's a poor scheme fit and that the team is uncommitted to him. Though only a fourth round RB (Utah's Joe Williams) wouldn't normally appear a major threat, this is Kyle Shanahan. He isn't afraid to start his handpicked guys over more heralded runners, and Peter King's draft-day look-in showed the team truly wanted him, with Shanahan saying he'd lose sleep if they missed on Williams. Reports are already emerging that Williams could "immediately usurp" Hyde if he shows well in camp, thus decreasing the incumbent's "Risk" and "Usage" scores. Hyde has become a major high-risk, but potentially huge reward pick. Hyde will be a highly productive RB when starting, but reports suggest this could be very short-lived, making him a huge risk.
Tier 4 - Quality RB2s (C+ range, $20-$25)
18 (23 / 21)
$25
Dalvin Cook (MIN)
9
8.5
7.5
7
7.5
39.5, C+
8/7 Stock Up Update (Previously RB33): Dalvin Cook has reportedly been shining in Latavius Murray's absence, and appears a perfect mesh for Pat Shurmur's scheme with his high-end receiving abilities in an offense that loves RB dumpoffs. 50+ receptions are highly realistic, while Cook has also been displaying the short-area wiggle and vision to thrive in Shurmur's inside & outside zone schemes, even out of the shotgun formation. Though his surrounding situation is still hideous, this level of talent with 300+ touch usage is all you can ask for at this stage of the draft. Thus, Cook is arguably the position's fastest riser, and one of the key players to watch this preseason.

Summary: Cook landed in arguably the worst spot possible with Minnesota. Indeed, the talent is there, but that's about all he has working in his favor. The team dished out oodles of money for Latavius Murray, who will undoubtedly be involved, especially near the stripe. Additionally, the line is among the worst in football, and there's little else really threatening defenses or creating TD opportunities. Throw in a bland, vanilla scheme, and Cook will be relying on his own high-end abilities to produce any fantasy value in 2017.
19 (21 / 22 / 30)
$23
Bilal Powell (NYJ)
9
7.5
7.5
7.5
7.5
39, C+
8/7 Stock Up Update (Previously RB27): At first glance, I graded Powell's Surrounding Talent an abysmal 5, given how horrendous his skill counterparts are. Upon reflection however, and especially in light of Quincy Enunwa's injury, who else is this team going to use? They will constantly be down, Josh McCown loves a good dump off, and Powell is truly a threat for 7-8 catches per game, whether Matt Forte plays or not. Speaking of the aging vet, he's already missing time with hamstring woes, and Powell should have no job cementing himself as a 65% snap player, especially considering the game-flow. He dominated when afforded looks last year, being outscored by only Le'Veon Bell and Aaron Rodgers during Weeks 13-17. Powell might be THE highest upside back flying under radars right now, as owners (like myself previously) view his horrendous team as a negative fantasy-wise, instead of the positive it very well could be.

Stock Down (Previously RB18): Though I absolutely love Bilal Powell as a talent, I hate pretty much everything else about his fantasy situation, and he was severely hurt by our Fantasy Stock Rating system. New reports suggest Matt Forte could still be used as a "workhorse" (lol, c'mon), while Eric Decker's release only worsens an already lackluster group of surrounding talent. Powell will need his Talent to transcend miles upon thick miles of shit to truly come into value in 2017.

Summary: When Powell was finally afforded the opportunity during Weeks 13-17, only Le'Veon Bell and Aaron Rodgers outscored him. That speaks worlds of his talent, and beat writers project Powell as the likely lead back (a no-brainer given Matt Forte's limbs are rotting). We still need to see what new coordinator John Morton brings to the table, and early reports suggest he'll ride a committe, plus the surrounding situation is gross, but Powell could outscore this ranking on talent alone if those cards fall right.
20 (17 / 17)
$22
Joe Mixon (CIN)
9
7.5
8
7.5
6.5
38.5, C+
Stock Down Update (Previously RB17): Gio Bernard's unexpected return to full practice certainly dampers Mixon's true three-down horse potential, at least from the outset. Additionally, Jeremy Hill is listed as the starter on the Bengals first depth chart, which is likely meaningless and just a matter of going through veteran favors, but it just adds a tiny little nugget to monitor. Even in light of all this, Lewis has described Mixon as an "off the charts talent," while some writers project 23-25 touches as early as Week 1. If that type of workload seems legitimately possible, Mixon will rifle up these rankings into Top-15 territory. Right now, Bernard and Hill's presence make this trickier to project.

Stock Up (Previously RB26): Mixon profiles as one of OTAs biggest risers for a number of reasons. For one, Gio Bernard is expected to be sidelined for at least the first quarter of the season, giving Mixon a real shot at nailing down the third-down role. Additionally, Mixon's originally weight concerns can be erased, as he's reportedly back down to 228 and has "looked like a beast," with his "acceleration and speed standing out." Plus, I just learned the Bengals have ranked in the top-ten of both rushing attempts and red-zone carries for three straight years, bumping up Mixon's "Coaching Scheme" score. His three-down upside just got a whole lot more real, making Mixon a much more attractive fantasy back.

Summary: Mixon is a bit of a polarizing fantasy prospect -- I love his explosiveness and three-down skillset, yet he's entering a crowded backfield with strong pass-catching and goalline options already established. Should he be thrust into every-down work, despite Gio and Jeremy's presence, Mixon could explode, but he also is contending with serious off-field risk and an offensive line that took major hits. I'm taking a cautious approach here.
21 (34 / 28)
$20
Doug Martin (TB)
8.5
8
9
8
5
38.5, C+
8/7 Stock Down Update (Previously RB18): Though I believe it to be purely motivational tactics, GM Jason Licht's comments about the starting RB job being up for grabs have to be considered. At minimum, there's a chance Jacquizz Rodgers could force a committee situation with a strong camp showing. Personally, I'm a big believer in Martin and feel he'll lock this job down once he returns, but there's slightly more risk tossed into the equation now.

According to our "Fantasy Stock Formula," Doug Martin is among fantasies greatest values right now. Yes, the three game suspension sucks (and contributes to his low risk score), but Martin is reportedly "the most impressive" player in OTAs and in tremendous physical shape; really, his conditioning and motivation have really been the only barriers between him and monster RB1 fantasy campaigns, and both appear fully intact for a bounceback 2017. Remeber, the Muscle Hamster is just a year removed from the second most rushing yards in the league thanks to Dirk Koetter's fantastic rushing scheme. Upon his return, he'll be joining an even more explosive cast following the additions of DeSean Jackson and OJ Howard, leaving running lanes more open and the scoring chances more plentiful. Assuming Martin maintains his shape all summer and the market doesn't adjust, he'll be a bonafide steal -- assuming you spend the late round pick on Charles Sims or Jacquizz Rodgers to soften the early season blow.

22 (25 / 23)

$20
Mike Gillislee (NE)

8
8.5
7
8.5
6.5
38.5, C+
8/7 Stock Down Update (Previously RB19): Though he got the first crack at goalline drills and reportedly dominated, Gillislee has since injured his hamstring and fallen a bit behind. Moreover, Belichick praised his backs having "versatility" so that defense's can't figure them out, which might mean more receiving work, but also less clarity at the stripe, where Rex Burkhead as reportedly been seeing a lot of work. Gillislee's upside is still sky-high, but the missed time and lack of role clarity make him a bit riskier than originally thought.

Indeed, Gillislee is trapped in a crowded backfield"; still the upside is enormous because he's projected for the incredibly valuable "LeGarrette Blount" goalline and early down work in a hugely explosive scheme. This is about the quality of touches, versus the quantity. He'll be seeing 12-15 looks against lightly stacked boxes on early downs, while plenty of red zone opportunities. The Patriots love picking the pockets of division rivals, and Gillislee has the makings of their next great steal. Check out his stock profile linked above for more depth.
Tier 5 - Valuable Committee Members, Ideally Flex but possible RB2s (C Range,
$16-$20)
23 (27 / 34)
$19
Danny Woodhead
7.5
8.5
8
7.5
6.5
38, C
8/7 Stock Up Update (Previously RB28): Woodhead flies up the board following Kenneth Dixon's season-ending knee surgery. Now, he has sole possession of the invaluable 3rd down back role that averaged 7.3 receptions per game (second most in the NFL in 2016), with goalline work potentially an option. Woodhead's ceiling and floor just increased dramatically.

Stock Up (Previously 36): Reports that beat writers "lost track of how many" passes Danny Woodhead caught led me to research the Ravens and Joe Flacco's tendencies more. The team targeted their RBs second most in the NFL behind only the Saints, as Ravens backs averaged 7.3 catches per game. The upside is enormous in reception leagues, and even standard leagues Woodhead is a solid bet to rack up serious total yardage. He's a major riser.

Summary: Yes, Flacco has historically loved targetting his backs in the passing game (Ray Rice averaged 92.5 targets a season from '09-12), but a weak line, committee situation (especially when Dixon returns), and his own major injury risk make Woodhead a bottom-barrell PPR investment
24 (24 / 27)
$17
Tevin Coleman (ATL)
8.5
7
8
8.5
6
38, C
Stock Up: Multiple reports, including our own interview with Falcons Insider Jeanna Thomas, confirm the zone-blocking scheme remains very much in place, and the distribution of work / output should be expected to be a near mirror image of 2016.

Similar to Freeman, Coleman takes a "Scheme" hit until we know more about new OC Steve Sarkisian. Still love his speed and standalone value, in addition to being one of the highest upside handcuffs in the game; yet, Devonta seems injury-proof, while Coleman himself has struggled staying on the field in both of his first two seasons.
25 (33 / 26)
$17
Adrian Peterson (NO)
8.5
7
7.5
8.5
6
37.5. C
Stock Up: I know, I know, it was only OTAs. But the buzz surrounding Adrian Peterson's performance, from teammates and coaches alike, make it hard to keep him any lower. At this stage and cost, his insane upside is worth more than those below him, even if the floor is far lower.

Summary: Tim Hightower got plenty of 2016 work, especially around the stripe, and Peterson certainly carries 10,000x the talent ceiling. Still, we haven't seen anything to suggest that'll be realized ever again. AP does have a Week 1 "Revenge Game" working in his favor, and there's a sneaky chance he lights up his old time, grabs a stranglehold on the early down work, and cruises to a massive rebound. Still, many factors need to bend right for 2017 success.
26 (32 / 38)
$16
Theo Riddick (DET)
7.5
7.5
8
7.5
7
37.5, C
8/7 Stock Up Update (Previously RB29): Reports suggest Theo Riddick, who caught five Red Zone TDs in 2016, will be even more heavily involved around the stripe in 2017. This makes perfect sense with Anquan Boldin's 22 RZ Targets now up for grabs. Though Abduallah is the "sexier" name, Riddick will see the more valuable work, and carries far less risk. He's the sneaky Lions back to own.

The picture of a "Blue Chip" prospect, Riddick has no initial "sex appeal" as a fantasy prospect. Yet, when you break his "Stock Score" down, Riddick's revealed to be one of the better investments and values at the position: he's a fantastic pass-catcher that's used extensively in Jim Bob Cooter's dump-off, quick strike attack, and is now playing behind a vastly improved offensive line. Stir in some fairly minimal risk, and you've got an RB2 / Flex investment that won't get ohhs and ahhs, but will leave you smiling come season's end. Don't forget - Riddick had his best game while sharing duties with Ameer Abdullah in Week One: 12 touches (5 receptions), 108 yards, 2 TDs (one receiving). This offense hums through chunk receptions to RBs.
Tier 5.5 - Less Sexy Committee Guys, Flex Appeal still (C-, $9-$15)
27 (19 / 22)
$14
Mark Ingram (NO)
8.5
7
6.5
8.5
6
36.5, C
Stock Down Update (7/23): Reports that AP is looking incredible, and is a real threat to takeover as the lead early down back, has Ingram falling fast. Plus, Alvin Kamara is reportedly lighting up OTAs and slated for the third down role, leaving Ingram trapped "between-the-20s" without a clear lockdown on some of the most valuable fantasy touches. He'll still most likely see the most weekly work, but the quality of those touches is dropping fast.

AP's addition sends Ingram's stock (especially around the red zone) plummeting; still, Ingram and his newfound pass-catching prowess allows him to reap the "Coaching Scheme" and "Surrounding Talent" benefits more readily, thus making him the more attractive of the Saints back. His ceiling is diminished with far less scoring upside, but Ingram should be a safe weekly bet for 3-4 catches and at least 70 total yards.
28 (43 / 35)
$14
Rob Kelley (WAS)
6.5
8
7
9
6
36.5, C
8/7 Stock Up Update: Rob Kelley has reportedly maintained his stranglehold on the starting gig by looking more explosive and powerful than this time last year. Samaje Perine has also reportedly struggled with ball security and with some assignments, allowing Kelley to pull-ahead for a gig that could yield serious TD output.

STOCK UP: Though rookie Samaje Perine has impressed, Kelley is doing all he can to maintain the starting role, shedding body fat and expanding his receiving skillset; Gruden recently endorsed him as "the guy," suggesting he's in the clear driver seat to this very valuable backfield role. Will rise as this is further confirmed, or fall if Perine becomes a bigger threat.
29 (31 / 24)
$13
LeGarrette Blount (PHI)
6.5
7.5
8.5
8.5
5
36, C
8/8 Stock Up Update: Since returning to practice, Blount has immeditely taken over the lead RB role and impressed with his power and burst, especially in red zone drills. Though he's little more than a plodder himself, Blount will be running in Pederson's "slow-the-pace," methodical attack that led the league in rushing just two season's ago. He'll also be behind one of the league's top offensive lines (ranked No.1 by PFF), and on a team that was very run-heavy in the red zone -- Ryan Mathews logged the fourth most rushing attempts within the 5 yard line (16) despite missing three games entirely and disappearing in many more. Blounts 1,000 yard, 10+ TD upside is feeling more real by the day, even if there's an annoying committee feel to this backfield.

Though minimal stands between Blount and goalline touches in an offense that should take a step forward (especially once Ryan Mathews is let go), Pederson's historic reliance on committees and Blount's lack of real production minus his rookie season and last year make him a bleh investment.
30 (28 / 25)
$12
Ameer Abdullah (DET)
8.5
8
9
7.5
5
38, C
8/7 Stock Down Update (Previously RB21): Abdullah suffers a significant tumble down the board with Riddick dominating receiving work and Zach Zenner taking the goal line snaps in early camp. Yes, Abdullah will likely pace this team in backfield touches if he stays healthy, but the vast majority will be the far-less valuable between the 20s looks it appears. Thus, Abdullah profiles as a poorer-man's Mark Ingram, perhaps a solid bet for 60-70 total yards weekly, and hanful of receptions, but far lower goal line upside. Should he earn back red zone work, however, and Abdullah will rifle back up into the Top 25. I still love the Talent that much.

Stock Up (Previously RB22): Abdullah has reportedly been playing with "great burst" and making plays all over the field, to the point writers claim "this offense is noticeably different" with him on the field. Thus, Abdullah continues ascending, and makes for one of the most intriguing middle-round selections.

Summary: Detroit had 9 picks in 2017's draft and spent exactly 0 on RBs. Whether deserved or not, this is a huge vote in confidence for Ameer Abdullah. Unless LeGarrette Blount (update: he signed with the Eagles) is added, Abduallah faces minimal competition for a sturdy workload, and he's looked explosive every time he's remained on the field; plus Jim Bob Cooter is a creative schemer and was funneling this offense through the RBs and short passing game in 2016 before Abduallah went down. He remains a huge injury risk, but Abduallah could pan out huge if he remains on the field in 2017.


31 (20 / 20)
$11
CJ Anderson (DEN)
8.5
7.5
6.5
7
6
Our "Fantasy Stock Formula" reveals CJ Anderson to be one of 2017s most overrated RBs. Of course I love this bowling ball's versatility, hard-nosed running style and strong vision, but facts remain facts: his head coach has opened the starting spot up for competition and already endorsed committees either way; Mike McCoy, though a strong passing game coordinator, has had minimal success with run games; the line will be improved, but should still be among the bottom half of the league + Trevor Siemian isn't stressing out defenses; plus Anderson himself has never stayed healthy for a season, thus coming with huge risk. Stir in Jamaal Charles to muddy the waters and Anderson is a must-avoid at his current price.
32 (21 / 18)
$10
Spencer Ware (KC)
7.5
7
9
8
5
8/8 Stock Down Update (Previously RB25): Ware continues plummeting fast down the board with news Kareem Hunt is earning first-team reps and shining. Beat Writers have predicted Hunt has a real chance at stealing this job before Week One, which makes Ware obviously an enormous risk right now. Andy Reid's backfield's always carry monumental upside, so Ware can't just be forgotten and he'll rocket up the ranks if he emerges as a clear starter by the end of camp. Still, Ware needs to be appraoched far more cautiously than he is right now with Hunt's continued emergence.

Stock Down (Previously RB17): While visiting our Pod (linked here), Chiefs Insider Chris Clark suggested that, while he loves Ware as an all-purpose, physical talent, Kareem Hunt has seemed like the real deal. As such, he's projecting this to be a full-on committee, unlike Reid's previous history of riding workhorse backs. Thus, Ware receives bumps down in usage and scheme, making him a lower-end RB2 prospect for now. Training Camp could definitely send him rising if he's a clear featured back, but skepticism needs to be taken as of now.

Summary: Though he's been dubbed the "expected featured back," Ware will have talented third round rookie Kareem Hunt breathing down his neck all year, which lowers Ware's "Risk" score tremendously; some beat writers are projecting Hunt to lead the team in RB carries AND receptions, which is far from outlandish; Hunt has been deemed an ideal fit for Andy Reid's "West Coast" offense that frequently targets RBs out of the backfield.
33 (30 / 31)
$10
Paul Perkins (NYG)
7
8
6.5
8
6.5
36, C-
Stock Up (Previously RB31): Perkins value has been a roller coaster all offseason, but the latest reports suggest the team is "all-in" on Perkins as a potential "three-down back." We're clearly still skeptical, with him ranked down at RB31, but this does project to be an explosive offense. Should Perkins gain receiving and/or goal-line work, and prove more than just a between-the-20s guy, he could rocket up these rankings.

Summary: I hate between-the-20s guys in pass-heavy offenses, so Perkins "nominal" starter title isn't doing much for me. I'll adjust big time, however, signs point to him getting goalline looks, but right now Vereen and Gallman appear primed to gobble up the most valuable touches.
34 (38 / 43)
$10
CJ Prosise (SEA)
8
7.5
8
7.5
5
36, C-
Reports suggest CJ Prosise will have a "big role" and could threaten for 60 catches with health, and this clearer role makes Prosise him the top option in this backfield for any type of reception point leagues.
35 (37 / 33)
$9
Derrick Henry (TEN)
9
5
10
7
5
36, C-
Stock Up (Previously RB40) & Summary: I absolutely love Henry, going as far as labeling him as "The Next David Johnson" last preseason as a rookie who could emerge by midyear to yield enormous RB1 output. And I'm doubling back down. This season, Henry is an even more attractive option because he's shaping up as a "Handcuf with Benefits." Murray has been absent with hamstring issues, and Henry has predictably shined in his absence, ripping off massive gains, steamrolling defenders, and flashing smooth receiving ability as he takes screens to the house. Beat writers are projecting his workload to "double" this season, and Henry could emerge as a goal line threat with his insane power. As a reminder, this is an absolute steamroller with the identical measurables to Von Miller. He's the picture of a power runner in the ideal "Exotic Smashmouth" scheme, and I am 100% confident once he gets the volume, RB1 numbers will follow. He's the ultimate bench stash yet again, but now with some standalone appeal.
36 (40 / 39)
$7
Kareem Hunt (KC)
8
5.5
9
7
6
35.5, C-
Stock Up (Previously RB43) & Summary: Hunt rifles up the board as he earns first team reps and now has a real chance to emerge as the Week One starter. We've spoken at length about Hunt's tremendous fit in Andy Reid's West Coast offense, and the Walrus coach has been talking up West's receiving ability, comparing it to some of the greats he's facilitated enormous fantasy campaigns out of (Brian Westbrook, Jamaal Charles). Though Ware is talented enough to make this competition tight, Hunt seems like a safe bet to earn starts at some point this season. When he does, Hunt will be in the ideal scheme to facilitate some RB1 production.
37 (44 / 49)
$7
James White (NE)
7.5
7
6.5
8.5
6
35.5, C-
8/7 Stock Up Update: In visiting Patriots Training Camp, it became very clear White is going to be a highly-used cog. He was the clear go-to guy in all passing and two minute situations, and was peppered with targets at all levels of the field. He scored two TDs in 11-on-11s, including a deep wheel route where he outran the entire defense. White is arguably the most undervalued player in fantasy right now, and should be a flex play at minimum, even if the output is a bit inconsistent at times.

Summary: This backfield is a crowded mess, but both Mike Reiss of ESPN Boston as well as WEEI's Ryan Hannable (as heard on our podcast here) firmly believe James White has locked down the ever-valuable third down back role with his heroic Super Bowl 51 performance. Indeed, this backfield will remain tricky to project, but backs like Faulk and Vereen consistently delivered weekly value in the role White inherits. Even amidst many surrounding mouths to feed, White should deliver more often than not.
Tier 6 - Last Possible Plodding Starters (D Range, $4-6)
38 (29 / 29)
$6
Eddie Lacy (SEA)
7
7.5
8
7
5
34.5, D+
Eddie Lacy's massive frame is exposed by our Stock Formula. Of course, as a former bulldozer, Lacy's "Talent" score stands to rise if he's actually in shape, but let's be real. He's doing the same "P90" workouts as The Wolf... sure, I've achieved "Jacked Dad Bod" Status, but I'm not stepping onto an NFL field anytime soon. Plus, with the more-talented Rawls breathing down his neck, Lacy grades quite low and is severely overrated. Yes, Pete Carroll has made it clear he wants to return the dominant Seattle run game and physical mentality, and Lacy's pay suggests he's looked at as the key cog. Still, I need to see him slimmed down first, but Tub Tub could be a major riser this summer.
39 (26 / 32)
$5
Frank Gore (IND)
6.5
7.5
7
7.5
5.5
34, D+
Another "Blue Chip," Gore just keeps churning and I keep avoiding due to his age, which accounts for his low risk score. Even if on his last legs, Gore finds himself in an early down horse role in a fairly explosive offense; he's hurt by, again, age, as well as a weak offensive line and what projects to be a more pass-happy attack.
40 (39 / 37)
$5
Jonathan Stewart (CAR)
7.5
7.5
7
7
5
34, D+
Stock Up Update: Though Christian McCaffrey is far more sexy, Stewart will reportedly maintain an early-down and goal line role that have some writers projecting him to handle "the bulk of carries." He's still an unexciting and limited talent, as well as a major injury risk, but Stewart should see some decent work in an above-average offense, making him worth more than he's currently going for.
41 (35 / 41)
$4
Terrance West (BAL)
6
7.5
7
7
6.5
34, D+
8/7 Stock Up Update (Previously RB51): West blasts up the rankings with Kenneth Dixon officially removed from this backfield mess. Though little more than a standard plodder, West has the comfort of volume on his side and should monopolize early down and goal line work for the Ravens. There's nothing exciting about that role, but West will be a throw-in flex option that can be found after Round 10, making him well worth a look if you're RB depth is questionable
Tier 7 - Elite Bench "Penny Stocks ($2-$3)"
42 (50 / 51)
$3
Jamaal Williams (GB)
43 (36 / 46)
$3
Duke Johnson (CLE)
44 (52 / 48)
$3
Thomas Rawls (SEA)
45 (41 / 36)
$3
Samaje Perine (WAS)
46 (49 / 44)
$2
Jamaal Charles (DEN)
47 (54 / 53)
$2
Joe Williams (SF)
Tier 8 - Remaining Draftable Names ($1)
48 (48 / 45)
$1
Jacquizz Rodgers (TB)
49 (64 / 63)
$1
Darren McFadden (DAL)
50 (65 / 59)
$1
Rex Burkhead (NE)
STOCK UP
51 (57 / 54)
$1
Marlon Mack (IND)
52 (68 / 80)
$1
Tim Hightower (SF)
53 (66 / 52)
$1
Jonathan Williams (BUF)
54 (45 / 50)
$1
Darren Sproles (PHI)
55 (70 / 69)
$1
D'onta Foreman (HOU
56 (56 / 71)
$1
DeAndre Washington (OAK)
57 (42 / 40)
$1
Matt Forte (NYJ)
58 (53 / 60)
$1
Alvin Kamara (NO)
59 (83 / UR)
$1
Branden Oliver (LAC)
60 (59 / 61)
$1
Dion Lewis (NE)
STOCK DOWN
61 (47 42)
$1
Latavius Murray (MIN)
62 (63 / 58)
$1
Jalen Richard (OAK)
63 (79 / 85)
$1
Robert Turbin (IND)
64 (67 / UR)
$1
Elijah Hood (OAK)
65 (85 / 62)
$1
Kenyan Drake (MIA)
Are CJ Anderson and Spencer Ware severely undervalued here? Is Jay Ajayi at #4 lunacy? Who else is way on or off in this list? Sound off below, or chirp The Wolf on his Twitter page here.
Reminder: our industry-leading Draft Guide is FREE, and signing up now ensures you get ANOTHER FREE August Update. Plus, keep up with breaking fantasy football news by following us on Twitter, Instagram and Facebook. For audio based learners or those with long commutes, make sure to subscribe (and rate us 5 stars) and tune into the Fantasy Fullback Dive on iTunes or Stitcher.